SENSYN ROBOTICS, Inc. (head office: Shibuya-ku, Tokyo; President: Naoaki Mashita; hereinafter "SENSYN ROBOTICS"), a company which is aiming to fully automate work with DaaS drone solutions, has started providing iOS/Android/Mac OS apps for SENSYN DC (SENSYN Drone Communication Service) – a real-time video sharing service using drones.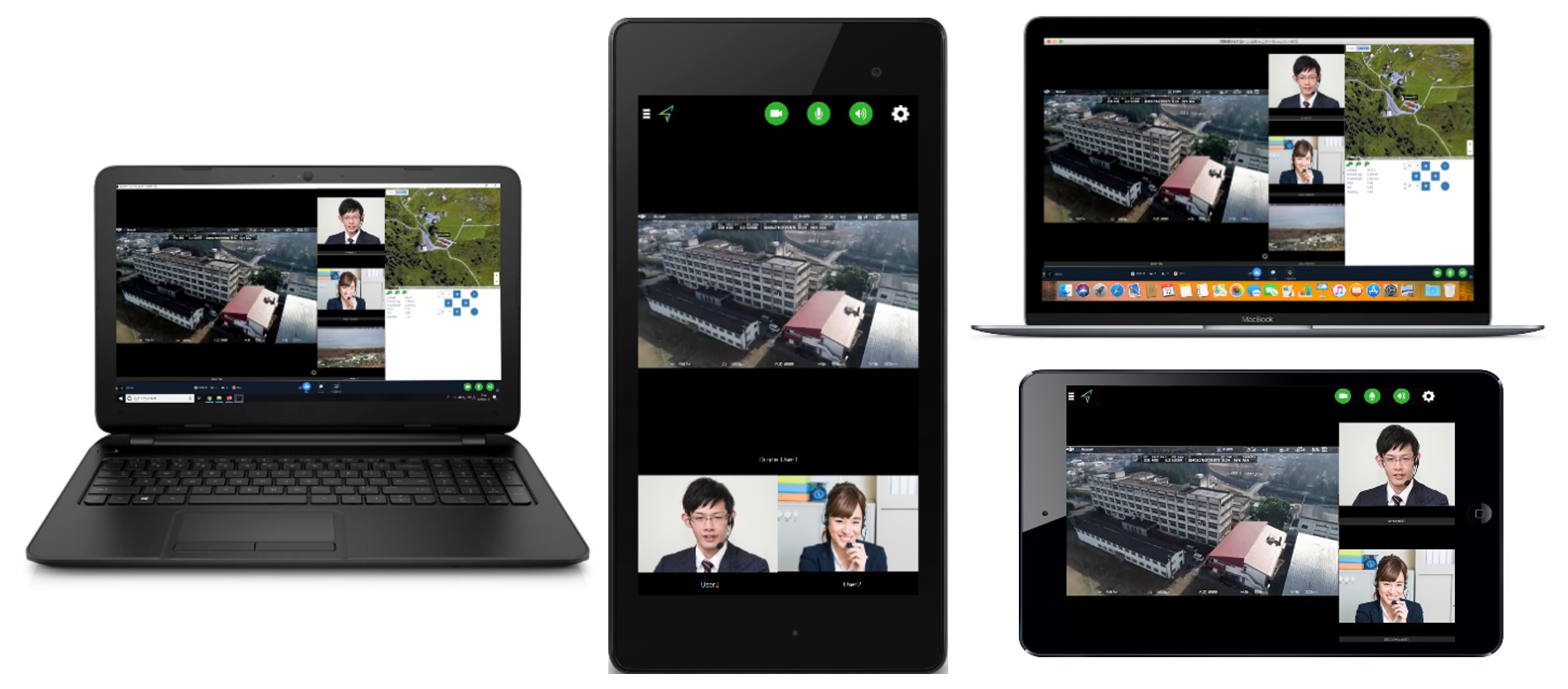 We provide a Windows version of our SENSYN DC service, but we have now further improved its convenience by supporting apps on various platforms.
Features of SENSYN DC
SENSYN DC is a service that allows communications while sharing video captured by drones in real-time at multiple remote locations. It is possible to check the situation on-site in real-time without visiting that site when a disaster has struck or when conducting facility inspections. Therefore, it is possible to instantly grasp the situation and make decisions.
Precautions
*A SENSYN DC contract is required to use this service.
*It is not possible to operate the remote cameras of drones in the smartphone version.
*We recommend using Wi-Fi for smooth use of this service.
*The quality of the images may lower when using this service with a 3G/4G network.
Usage Settings
When a Disaster Occurs
It is possible instantly grasp the damage situation and take appropriate countermeasures. This is achieved through sharing videos that are being captured in real-time with emergency headquarters and related departments by sending drones to sites without people having to approach such danger zones.

Infrastructure Facility Inspections
It is possible to grasp the on-site situation through videos from drones at remote locations to conduct efficient and safe facility inspections without the need for those with special skills to visit distant sites. This is done by utilizing this service in the maintenance and inspection of social infrastructure over a wide area (e.g., power lines and bridges).
App Summary
Name: SENSYN DC
Service content: Real-time sharing of videos captured with drones between multiple remote locations
Service details: https://www.sensyn-robotics.com/en/solution/realtime
Download URLs:
https://itunes.apple.com/jp/app/sensyn-dc/id1459186587?mt=8 (iOS)
https://play.google.com/store/apps/details?id=com.sensyn.mobile.dc (Android)
http://sensyn-robotics.vcube.com/services/download/flow.php (Mac OS)
Operating Environment
・iOS 9.0 or later
・Android 5.0 or later
・Mac OS 10.12 or later
*A SENSYN DC contract is required to use this service. It is not possible to use this service just by installing the app.
Our mission is to evolve what is considered "commonplace" in society with the power of robotics. It is under this mission that we have continued to take on pressing challenges in regards to specific social issues in various fields focused on facility inspections, disaster response, and security and surveillance by achieving the full automation of work with the power of robotics since our establishment in October 2015.
DaaS: This is the abbreviation for drone as a service. It is possible for customers to use the drone solutions of SENSYN Robotics as services without the need to buy drones. The advantages to this include a reduction in the cost of introducing/operating drones and a release from maintenance/upgrade work.
URL:https://www.sensyn-robotics.com/en