*The translation function installed in our site is done by computer system, human hand is not added.
SENSYN ROBOTICS, Inc. has launched a limited time free campaign for its on-site paperless application, Shoruila.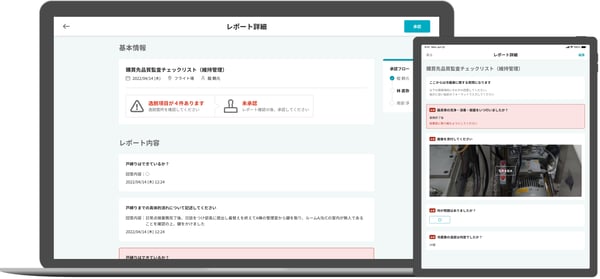 Shoruila is a business application that allows even those unfamiliar with IT tools to easily create, record, and manage electronic check sheets. Because it does not require specialized knowledge and can be easily customized by anyone, the electronic checklist template can be brushed up smoothly without being assigned to a specific person in charge.
By digitizing paper records such as HACCP, business reports, and on-site management, SENSIN Robotics streamlines complicated tasks such as transcribing to Excel, double-checking for data omissions, and stamping ledgers.

SENSYN ROBOTICS has faced various on-site issues through drones and robotics. Since there are many tasks that require paper forms to be completed on site, we have developed Shoruila, which can further improve efficiency by digitizing these forms.
Features of Shoruila
Easy for anyone to digitize paper forms
Anyone can easily create electronic check sheets. It streamlines the process of transcribing from paper or digital camera to Excel and greatly reduces the man-hours required to create reports. In addition, because it is electronic, the created reports can be searched, reducing the need to search for documents.
Recording on tablets and mobile devices, and alerts for work instructions when abnormalities occur
Alerts are displayed for the contents of records and reports, eliminating the need to miss abnormalities and delays in initial response to abnormalities that occur with paper-based records.
Online Approval, No Seal Required
The content of records and reports can be checked and approved from any device, including smartphones, tablets, and PCs, greatly reducing the man-hours required by managers to check the content.
Trial User's Voice
Mr. Shiga, Store General Manager, subLime.co.ltd.
In June 2021, hygiene management in accordance with HACCP will be institutionalized, and any business that handles food products will be required to keep hygiene management records. As a business that manages many restaurants, we are also working on HACCP compliance, but since we are using Excel, we felt it was a challenge to detect abnormalities and visualize the implementation status of the record in real time.
We are looking for operations that can be made more efficient by digitizing HACCP records and reports in Shoruila, as we believe that these issues can be solved and that in addition to HACCP records, the system can be used to collect part-time worker shifts and for other operational inspection check sheets.

Mr. Ikehara, Manager, Han no Shun Nasai Gotanda Store, subLime.co.ltd.
Even part-timers who are not familiar with HACCP recording can follow the instructions on the smartphone/tablet screen to record and report, which is good, and we expect to reduce training costs.
I think another advantage is that I can safely leave the store manager in charge even on store business days when he/she is on holiday.

Company Profile
Company name: subLime.co.ltd.
Representative: Juichi Nemoto, Representative Director
Location: Shinjuku JEC Building 4F, 7-22-43 Nishi-Shinjuku, Shinjuku-ku, Tokyo
Business description: Management of restaurants and consulting services for restaurants
URL: https://32lime.com
About SENSYN ROBOTICS
Our mission is to evolve what is considered "commonplace" in society with the power of robotics. It is under this mission that we have continued to take on pressing challenges in regards to specific social issues in various fields focused on facility inspections, disaster response, and security and surveillance by achieving the full automation of work with the power of robotics since our establishment in October 2015.

URL: https://www.sensyn-robotics.com/en
*SENSYN CORE is registered trademark of Sensyn Robotics, Inc. The company, product and service names given in this document are the registered trademarks or trademarks of those companies.